| | |
| --- | --- |
| | |
|  Honda CR-V |  Toyota RAV4 |
Comparing the 2021 Honda CR-V and 2021 Toyota RAV4 to Help You Find Your Next Vehicle
Finding a model you can trust for every drive might sound difficult, but the 2021 Honda CR-V will be as close to perfect as you need it to be. Our team can show you the performance and features that this model has available so that you can see if it has everything you need for the road ahead. The crossover SUV segment is competitive, but it is easy to see how the 2021 Honda CR-V stands out from the rest.
Another popular option that you might be considering is the 2021 Toyota RAV4. Toyota models are among the most dependable you can find, but that doesn't mean it will be your best choice. Our team has put together a comparison to show you how the 2021 Toyota RAV4 and 2021 Honda CR-V compare, letting you decide which has everything you have been looking for.
Our competitive comparison looks at the most popular traits and features of each model to ensure you are getting a clear picture of each. We want to show you everything these models can do, making sure you can add the one you love to your life. Our experts have researched these models so that you don't have to, making sure you will be able to enjoy the time that you spend in the driver's seat.
We encourage you to read our comparison so that you can choose between the 2021 Honda CR-V and the 2021 Toyota RAV4. You can also contact our team to ask any questions you have, ensuring you have the clearest view of the 2021 Honda CR-V.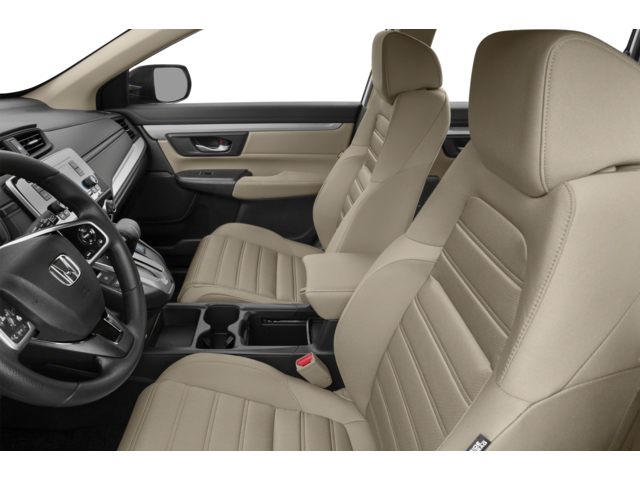 2021 Honda CR-V vs 2021 Toyota RAV4
Every 2021 Honda CR-V comes with a Continuously Variable Transmission, something the 2021 Toyota RAV4 doesn't come standard with.
Both models come standard with front-wheel drive and have all-wheel drive as an option to give you better traction and control through harsh conditions and over tough terrain.
The 2021 Honda CR-V will give you more cargo space than the 2021 RAV4 will, allowing you to fit more of the gear or equipment you need.
There is more passenger space in the 2021 Honda CR-V than there is in the 2021 Toyota RAV4, which means you and your passengers will be able to spread out more to feel more comfortable in the 2021 Honda CR-V.
Both models come with a wide range of driver assistance features that will keep you feeling confident on any road or highway.
You can equip leather-trimmed seats in the 2021 Honda CR-V for a more upscale interior, which is a feature the 2021 Toyota RAV4 does not offer.
Every 2021 Honda CR-V comes equipped with an Active Shutter Grille to help improve your performance, but the 2021 Toyota RAV4 needs to be upgraded to have a similar feature.
Apple CarPlay® and Android Auto™ integration are standard for the 2021 Honda CR-V and 2021 Toyota RAV4, making sure you have the easiest access to all your media and apps.
You need to upgrade the 2021 Toyota RAV4 further up its trim options to get LED fog lights while the 2021 Honda CR-V EX and above comes with them, giving you the impressive visibility you might need.
The base trim of the 2021 Honda CR-V and 2021 Toyota RAV4 can tow up to 1500 pounds, allowing you to bring along some of the gear that cannot fit into your cabin.